The last few years have seen a tremendous growth in the number of cloned apps being used around the world. As more and more business apps are becoming popular, it is quickly becoming apparent that people are turning to cloned apps rather than building new ones from the ground up. Today, in this blog post, not only will we explore how to create a cloned app, but we will also get into nuances that others usually don't speak about, including what are cloned apps, how they are built and whether as entrepreneurs, you have any other alternatives.
So, without any further ado in this spectrum, let us dive right into it and take each topic one by one and get a complete understanding of them all.
What is a cloned app?
Essentially, when one type of mobile application becomes very popular, it is testament to the fact that it has been received well by the customers. Basically, the whole purpose of a mobile app is to ensure that the people you make it for like using it and find it easier to deal with their work with the help of their smart phones.
Now, since every kind of app needs to be tested against thousands of scenarios which one can't imagine otherwise, seeing an app take off in the market becomes a sort of a proof of concept. It shows that over time, people have tried the app, tested it in real time situations and found that it can help them greatly.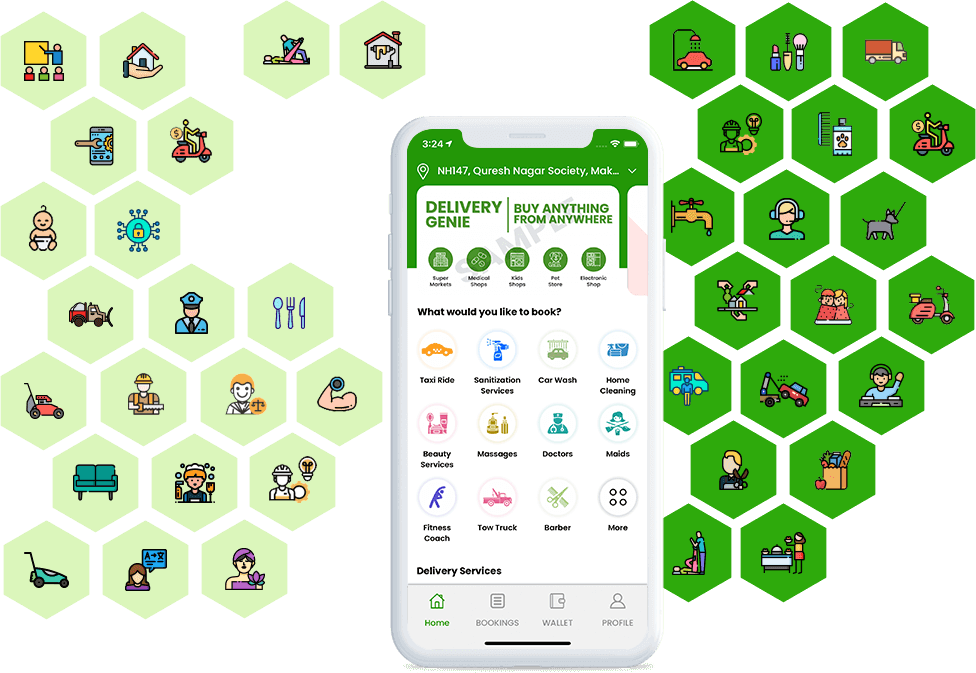 Therefore, many people choose to clone these apps (with a certain degree of coding attached to it) so that they don't have to reinvent the wheel and go about building the whole thing from the ground up in any situation.
How to create a cloned app?
The process of cloning is not at all as simple as it sounds. It isn't just copying and pasting. Instead, it requires a lot of technical knowledge to be able to see the app for what it is, to bring it in context to the businesses that you want to sell the app to (or build for your own business) and customize or modify it accordingly.
The first step is to break down the primary app completely. This means that the developer will have to work backwards and break open the source code of the app. The next step typically involves identifying key features and making sure that their usability remains constant across the board. The final step is to rebuild the new app on top of the existing code.
This step involves a lot of coding, which means that it also gives the developer an ample amount of opportunity to ensure that they can add new features, make any important or necessary amendments and update the application with respect to modern market behavior and current day requirements.
When cloning an app, it takes a team of android and iOS developers along with PHP developers to create the whole thing, not to mention an army of content writers, systems analysts, data base analysts, business analysts, research wing, quality assessment executives and, of course, a project manager to tie the whole thing up.
Therefore, it is safe to say that what appears to be a simple task of cloning, involves not only a whole lot of time and resources, it is also something that requires patience and a big pocket to bear the expenses that accompany it including salaries, cost of real estate in terms of a suitable development center, the infrastructural costs and that of the technology stack.
Is there an alternative?
Regardless of whether you plan to build a new app from scratch or get a team to clone a popular app from your on demand business foray for you, you will end up spending a lot of money. It may also take anything upward of 16 to 18 months in order to get the app ready and practical for a market launch and public use.
This is perhaps why; the modern market prefers ready made apps built by reputed white label on demand mobile app development companies. The way that this system works is that the white label on demand mobile app development company pre builds the app using their own resources.
They enable you to take a free demo of the app by downloading it on your devices and taking a live run at it. This is the time where you can test it thoroughly and understand exactly what your customers can expect when you roll the app in the market.
Once you have done all of that and approved the app, you can confirm an order with the company. They will then set the entire app up with your logo, brand name and other business credentials and launch he app under your server name on the Google Play store and the iOS app store.
What's more, once the app is white labeled with your details and color themes, you may also request the company to add the preferred local currency and local language of the region where you are planning to launch the app in addition to repainting the app in your color themes (to match with your business logo). The white labeled mobile app development company will also remove any and all mention of their existence from the app. They will never claim to have built the app for you so that your competitors can not approach them and get an even better app for themselves.
Finally, an app is pretty much useless if it is not treated as a system. One single app will not help you generate any kind of business; therefore, these white label companies will also provide you with the source code of the app for any future modifications. You will also get a website to represent your brand's services and to facilitate online bookings and purchase apart from sharing information on your brand.